This wiki is about Neo Angelique Abyss. Please add only real and solid information about Neo Angelique Abyss. Help is always highly appreciated. Good luck!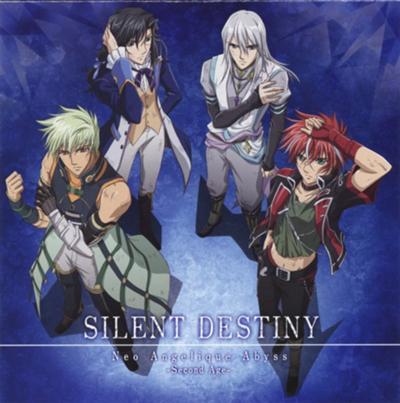 Neo Angelique ~Abyss~ (ネオアンジェリーク Abyss) is a spin-off of the Angelique series and is based on the Neo Angelique game. Yumeta Company started broadcasting the anime on April 6, 2008. The anime introduces four new characters that did not appear in the game. A sequel to the first season of the anime has been announced by KOEI, the creators of the Angelique series and games. The second season Neo Angelique Abyss -Second Age- aired immediately after the first. The first season has been licensed in North America by Sentai Filmworks and is distributed by Section23 Films. The first season collection was released on January 26, 2010. The second season of Neo Angelique ~Abyss~ was also been picked up by Sentai and released on March 30, 2010.
While the young Angelique lives out her days peacefully in her school, attacks from the monstrous Thanatos has been increasing everywhere else. Two Purifiers show up one day, men with the power to exterminate the Thanatos. One of them, Nyx, attempts to convince Angelique to join them in their work, as she has the power to be the only female Purifier. As Angelique hesitates, a Thanatos shows up in their school. Nyx and the other Purifier, Rayne, fight a losing battle. With her classmates falling prey to the Thanatos, and the Purifiers beaten to submission, Angelique's desire to save everyone awakens. She became the only female Purifier in their land of Arcadia, the one known as the "Queen's Egg".

<gallery columns="3" orientation="square" captionsize="medium" position="center" bordersize="large" bordercolor="#99CCFF" captionposition="outside" captionalign="center" spacing="small"> Queen Angelique.jpg|Angelique|link=Angelique NAA Rayne.jpg|Rayne|link=Rayne Nyx!.jpg|Nyx|link=Nyx NAA JD.jpg|JD|link=JD NAA Hyuuga.jpg|Hyuuga|link=Hyuuga Roche-san.jpg|Roche|link=Roche Bernard-san.jpg|Bernard|link=Bernard NAA Mathias.jpg|Mathias|link=Mathias NAA Rene.jpg|Rene|link=Rene NAA Jet.jpg|Jet|link=Jet Erenfried-san.jpg|Erenfried|link=Erenfried
Affiliates